NEWS RELEASE
MIRAI acquired JAS 0012 "Environmental Management of Leaf Vegetable Cultivation in Artificial Light Plant Factory"
MIRAI Co., Ltd.
In June 2020, MIRAI Co., Ltd. (headquartered in Kashiwa City, Chiba Prefecture, Chairman & CEO: Yoshio Shiina) acquired JAS 0012 certification for its Kashiwanoha Factory, one of its main production facilities, in accordance with the Japan Agricultural Standards, " Environmental Management of Leaf Vegetable Cultivation in Artificial Light Plant Factory ".
Certification Number: SGS/JP/JASP-N002
Certification Date: June 23, 2020
Factory: Kashiwanoha Factory (221-1 Aotashindentobichi, Kashiwa-shi, Chiba 277-0881)
<JAS 0012 "Environmental Management of Leaf Vegetable Cultivation in Artificial Light-type Plant Factory" Date of enforcement>
October 5, 2019
<Requirements of JAS 0012>
– General requirements (management standards and classification control)
– Facility requirements (facility (general) and clean zone requirements)
– Management requirements (cultivation management, shipping management, materials management, management of workers and education and training)
JAS* 0012 certified producers are eligible to use the special JAS Mark** as a result of the third-party recognition of their management skills in the cultivation process.
(The JAS Mark is a certification of the management process and is not attached to vegetable products.)
Artificial light-type plant factories will continue to evolve and develop in the future. On the other hand, there will continue to be a growing focus on global food procurement issues due to the effects of the bad weather and natural disasters that do not decrease every year, as well as new coronavirus. Overall, the demand for vegetables cultivated in plant factories will continue to grow.
MIRAI's cultivation system has been introduced not only to our own factories but also to the global market. Through the acquisition of GLOBALG.A.P. in March of this year and this JAS0012 certification, we will continue to provide "Safe Management Capability" and "Safe and High-quality Vegetables" to our customers all over the world through our own factories and the customers who have introduced our system.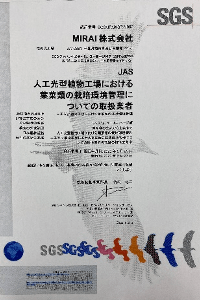 (JAS0012. certificate)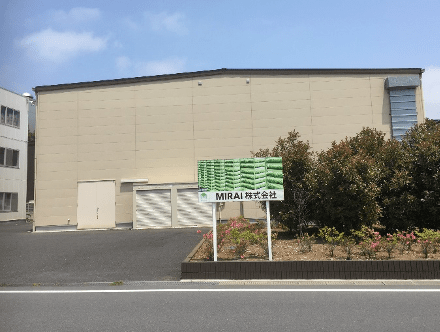 (MIRAI Kashiwanoha Factory)
*About JAS
JAS (Japanese Agricultural Standards) is a national standard established by the Minister of Agriculture, Forestry and Fisheries in the field of food, agriculture, forestry and fisheries, and traditionally has been used to establish standards for the quality and specifications of food, agricultural, forestry and fisheries products sold in the domestic market. Reference: Ministry of Agriculture, Forestry and Fisheries website
https://www.maff.go.jp/j/jas/jas_kikaku/index.html
**About Special JAS Mark
In light of the expanded scope of the revised JAS Law enacted in FY 2018, the three marks except for Organic JAS have been unified with a new design. It is now possible to affix the special JAS Mark to the company's website and product standard documents to indicate that the company is a certified business.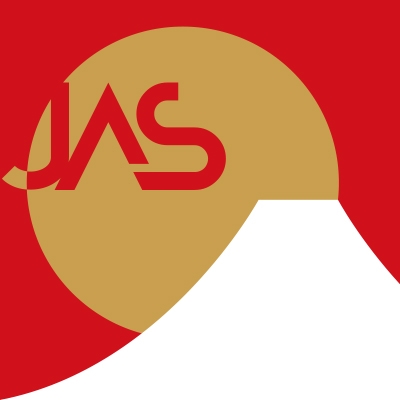 (Special JAS mark acquired this time)
<For inquiry about this news release>
MIRAI Co., Ltd.
COO: Nagateru Nozawa
E-mail:mirai@miraigroup.jp
Website:https://miraigroup.jp/